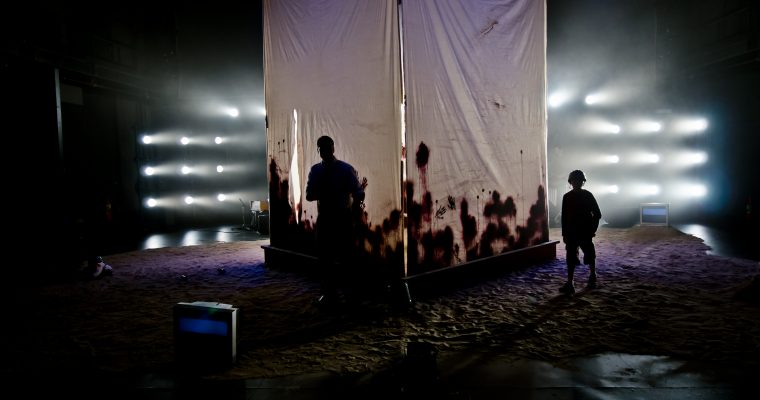 Soldier Songs
Soldier Songs is an evening-length multimedia event from composer David T. Little that combines elements of theater, opera, rock-infused-concert music, and animation to explore the perceptions versus the realities of the Soldier, the exploration of loss and exploitation of innocence, and the difficulty of expressing the truth of war. Music can be easily co-opted to serve a political or ideological message or it can equally be a vehicle for reflection, engagement, and emotional connection, as is seen in this gripping music-theatre work.
The Libretto, created by the composer, was adapted from recorded interviews with veterans of 5 wars. Soldier Songs traces the shift in perception of war from the age of 6 to the age of 66. We follow the abstract character through the three phases of life: Youth (playing war games) Warrior (time served in the military) and Elder (aged, wise, reflective).
It is a chilling and realistic view of our media-crazed, war machine culture, and of the nature of power in war.  Each of the eleven songs explores a different aspect of the experience, ranging from rage, to fear, to joy, to grief. Multi-media is employed less as a collection of recorded evidence and more as a critique of the media's ability to both glamorize and falsify the truth of combat.
Soldier Songs asks the tough questions and tells the tough stories through its poignant libretto, driving and devastating music, and surprising visual counterpoint. The tension between the visual and aural experience of our production works to dispel the numbness felt by those of us lucky enough to only experience war through the comfort of our living rooms.
Originally commissioned by the Pittsburgh New Music Ensemble, which premiered the work in 2006, Soldier Songs received its workshop  premiere in New York on 2008 by Beth Morrison Projects, and directed by Yuval Sharon.  The full world premiere production took place in 2011 at the International Festival of Arts & Ideas in New Haven, CT.  If you are interested in presenting this work, please contact Beth Morrison Projects.