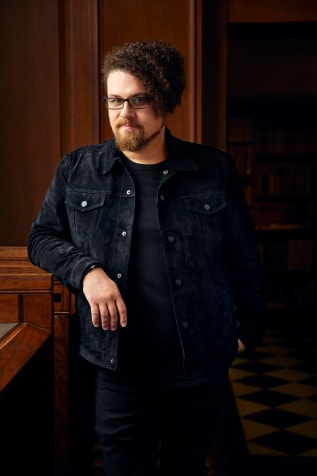 A natural musical storyteller with "a knack for overturning musical conventions" (The New York Times), GRAMMY Award-nominee David T. Little (DTL) is a composer known for stage, concert, and screen works permeated with eclectic influences and the power of the unexpected. Little readily probes the deep corners of psychology, invoking the disturbing, mythical, bewitching, surreal, and comedic as pathways to explore the human condition. Though best known for his opera, theater, and orchestral works, Little first came to composition through film music, and cinematic thinking permeates his work.
Several of Little's celebrated operas have been adapted as films by top US opera companies, including the widely acclaimed, GRAMMY-nominated Soldier Songs (Opera Philadelphia), the comic short Vinkensport, or The Finch Opera (Houston Grand Opera) and Black Lodge, a feature-length "industrial opera film" exploring the shared psychic words of David Lynch, Antonin Artaud, and William S. Burroughs. His music was also featured in the 2022 film Manicurism by Dutch director Roel Wouters, featuring Dutch/Australian experimental electronic duo No Plexus. His 2014 collaboration with filmmaker Bill Morrison – best known for The Miners' Hymns with Jóhann Jóhannsson – was praised as "extraordinarily powerful" by the LA Times, writing it "goes for the gut."
Raised as a drummer in the worlds of metal, punk, and industrial music (before Stravinsky and Elfman caught his ear) it is no surprise that Little found his earliest success in the New York City "indie-classical" music scene. There, his vibrant works for his rock-infused electric ensemble Newspeak established him as a "young radical" and "one of the most imaginative young composers" on the scene (The New Yorker). His 2012 apocalyptic opera Dog Days was called "a shot across the bow of contemporary opera" by The Wall Street Journal, and its success thrust him into the world of high drama and big ideas where he has spent much of the last decade.
Little has been commissioned by the world's most prestigious institutions and performers, including Carnegie Hall, the Metropolitan Opera/Lincoln Center Theater new works program, Kronos Quartet, the Kennedy Center, Baltimore Symphony Orchestra, and the London Sinfonietta. His music has been presented by the the LA Philharmonic, LA Opera, Houston Grand Opera, Opera Philadelphia, Opéra de Montréal, and Chicago Symphony Orchestra. Through all this, he has pursued a deep passion for film and storytelling: an urge to harness the power of human emotions and psychology through music, and make an audience feel something profound.
His music is published by Boosey & Hawkes, / Concord. Learn more at www.davidtlittle.com.
OMINOUS, MOODY, & MOURNFUL
ORCHESTRAL & STRINGS

ELECTRONIC & COMMERCIAL TRACKS