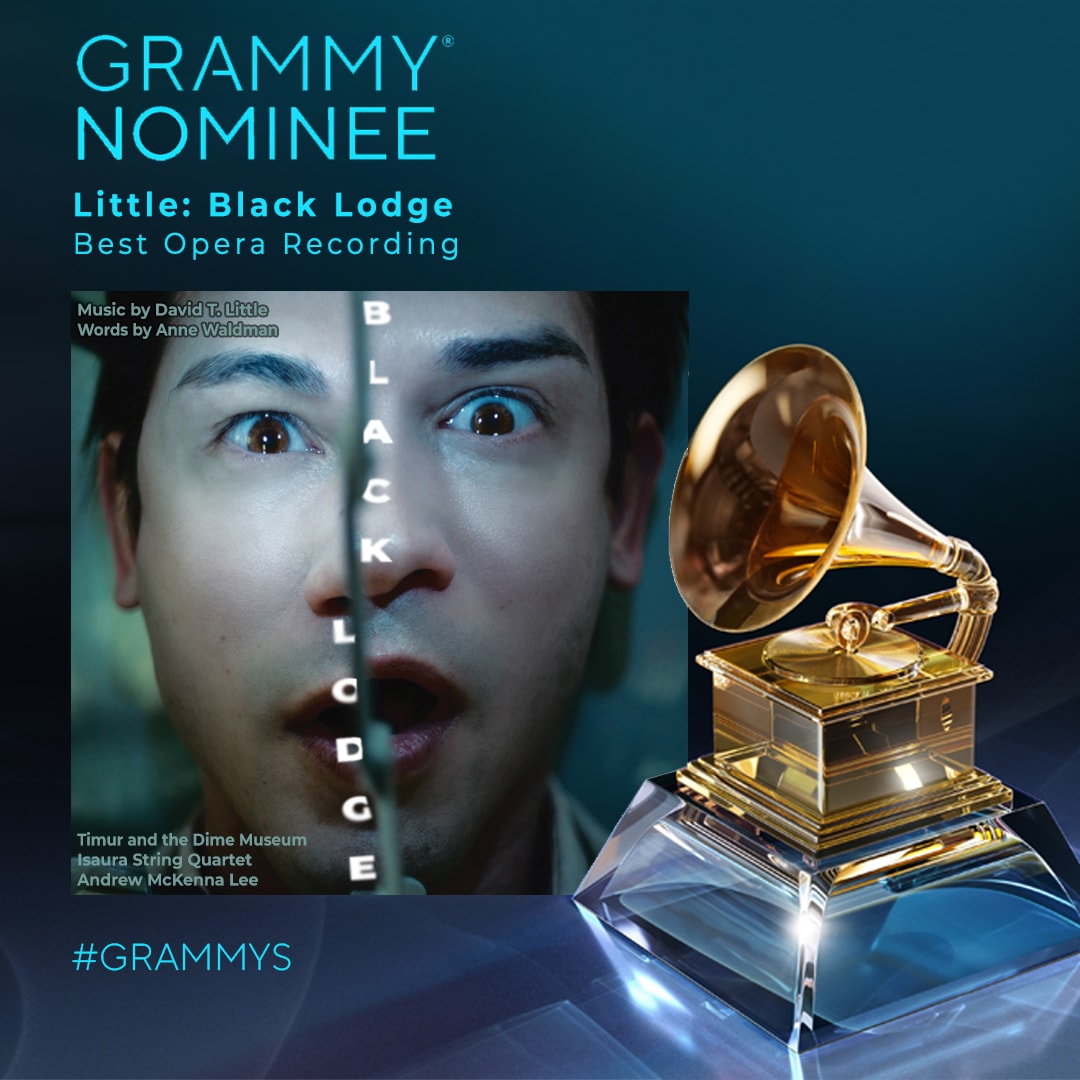 BLACK LODGE
by David T. Little & Anne Waldman
GRAMMY® Award Nominee
Best Opera Recording
 LISTEN HERE:
APPLE MUSIC | SPOTIFY | AMAZON MUSIC | BANDCAMP | YOUTUBE MUSIC
DEEZER  | TIDAL | QOBUZ | PANDORA
PRESS:
"…every register, moan to scream, is handled with indefatigable goth aplomb by the  charismatically wailing Timur, the film's star and frontman of the band."

– The New York Times

"In Black Lodge, [Timur] sounds alternately like a Baroque countertenor, a baritone, a rocker and a crooner."

-The Wall Street Journal

"Nightmares between opera and metal… The band Timur and the Dime Museum plays the music of David T. Little between conventional operatic pathos, post-punk attitude and shocker poses as they worked their way from the hard rock of the 70s into the Rammstein mainstream. …. Since Sunn o)))'s collaboration with Scott Walker I haven't heard such a believable connection between metal structure and operatic gesture as here. Little's music sets the nightmare to music with virtuosity: it is always thrilling and always disturbing.

– Neue Musikzeitung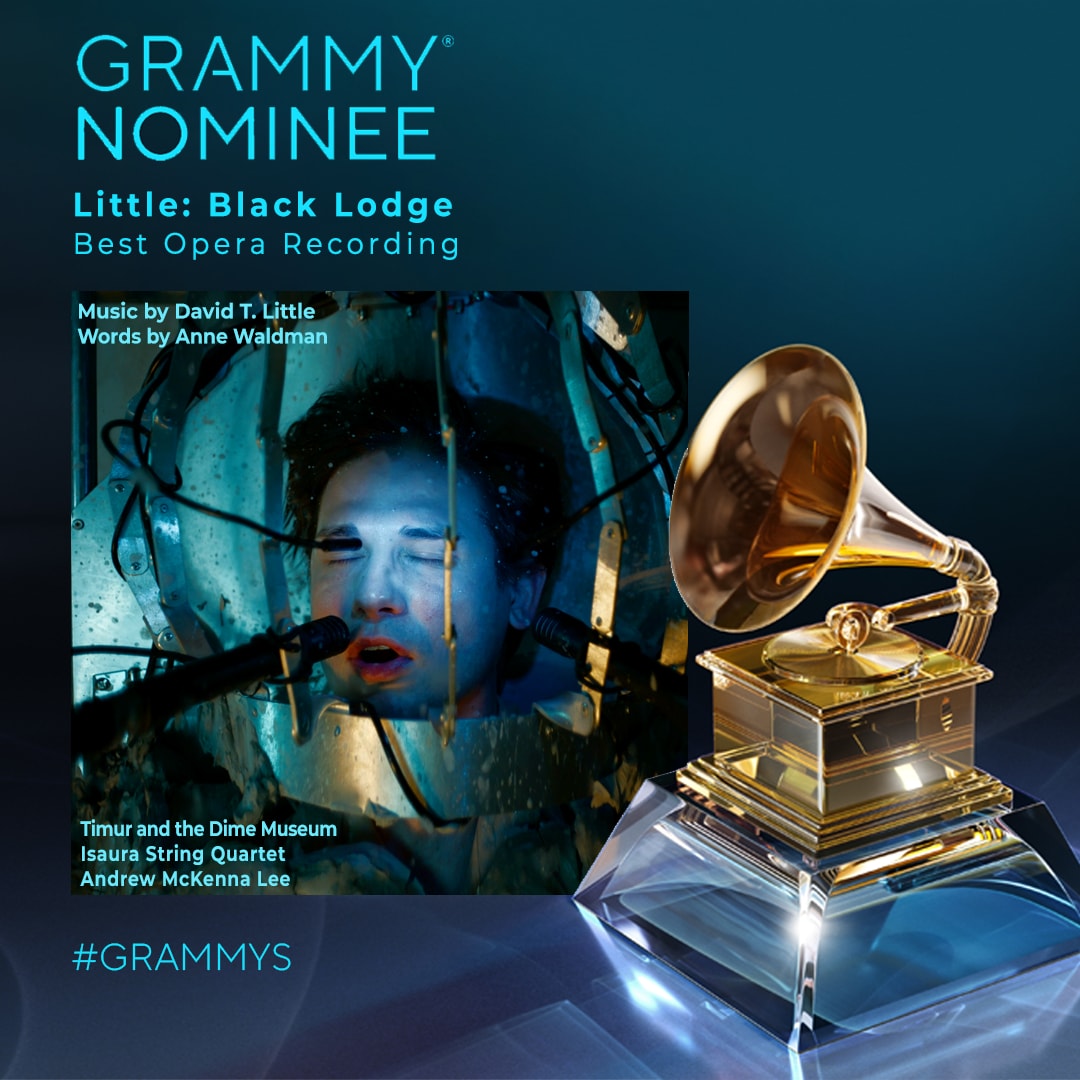 "This is opera ripping through the fabric of future vision psychosis where the integrity of classic form clasps the hands of radical possibilities. David T. Little takes no prisoners here, in confluence with poet angel head Anne Waldman's libretto of nature, irreality, and spirit consciousness, divining deliverance from life's spectacle of chaos and love. You're about to have your mind scorched, my friends!"

– Thurston Moore, Sonic Youth

"startlingly beautiful"

-Boing Boing

"…if you want a work that pushes the envelope of what the form can do, Black Lodge is definitely for you. …Little is amongst our finest contemporary composers."

– Cultural Attache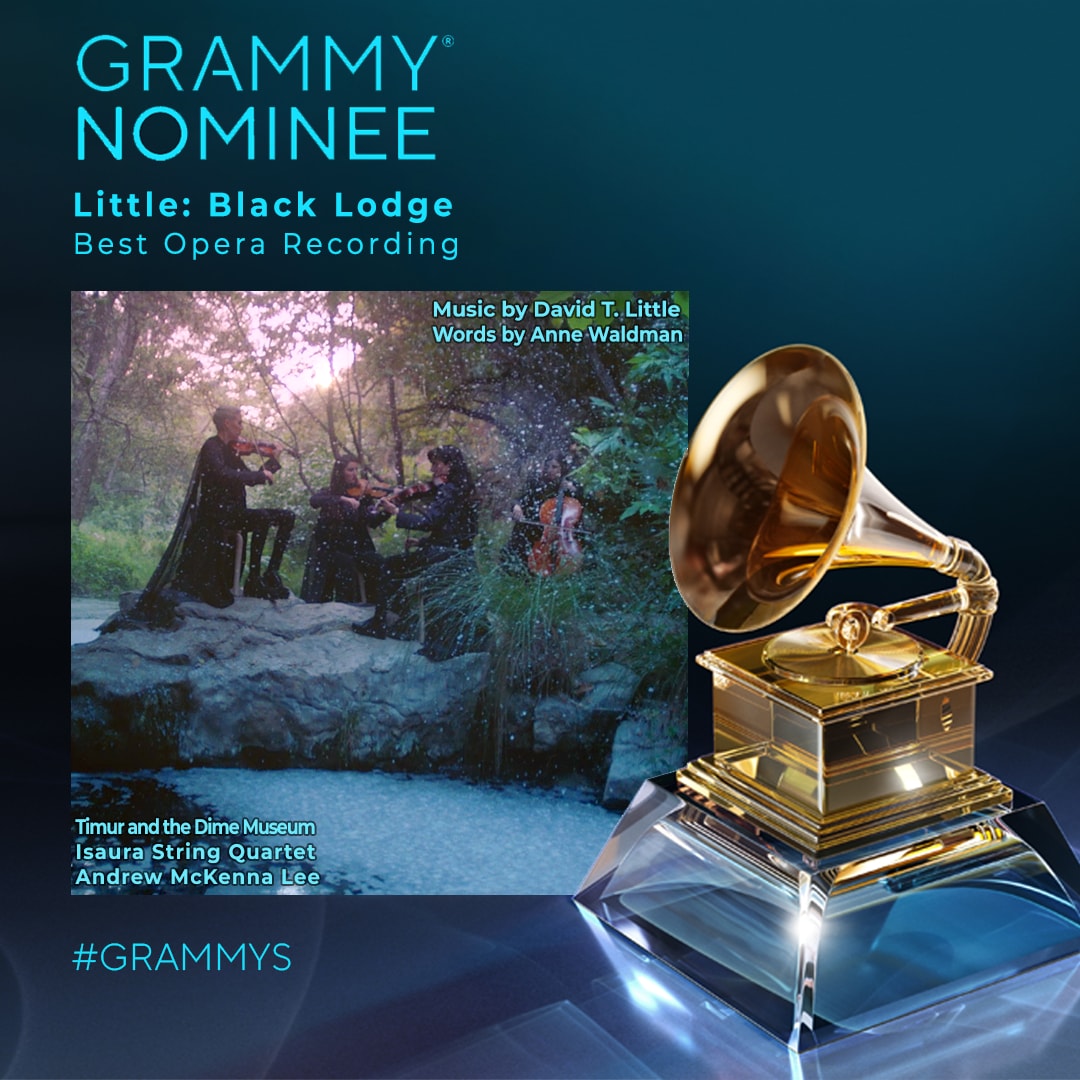 "Beautiful, unsettling, and thrilling…a monstrous piece of theater/opera…"

– Phindie

"Black Lodge is a bold new operatic film. It seamlessly blends poetry and music into a powerful cinematic experience"

– Philip Glass

"A happy delirium…a nonlinear nightmare, a hybrid delusion, a dark dream from the moment the musicians walked out."

– Bachtrack

"complex, layered, thought-provoking, and over the top…simply thrilling, both to watch and to hear."

– Broad Street Review

"One often found oneself enraptured by Little's music"

– Broadway World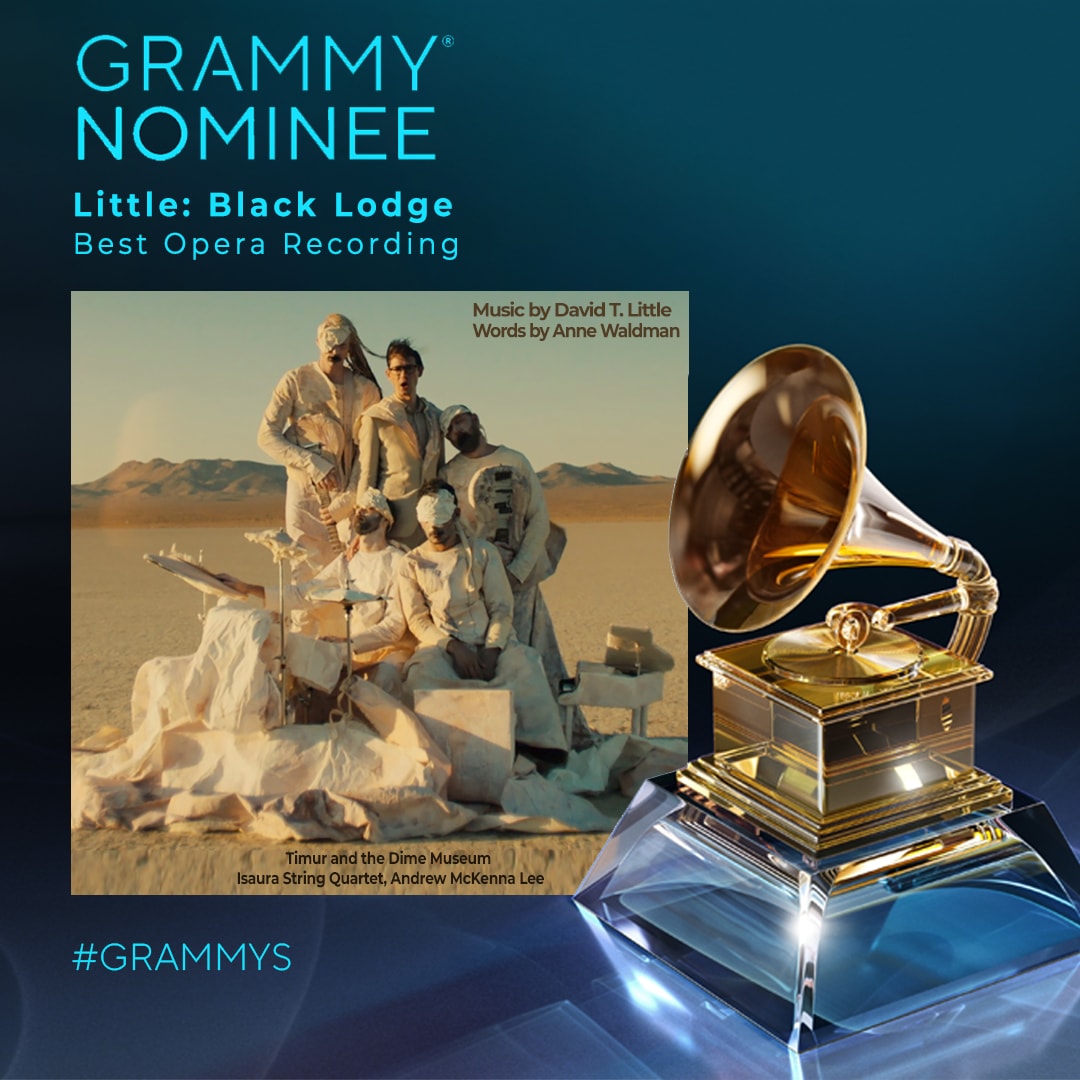 Released on Cantaloupe Music
June 2, 2023
CREDITS
Written by:
David T. Little (composer)
Anne Waldman (librettist)
Performed by:
Timur and the Dime Museum
Timur                      Vocals
Daniel Corral           Keys, vocals
Andrew Lessman    Drums, vocals
Matthew Setzer      Guitar, vocals
David Tranchina     Bass, vocals
Isaura String Quartet
Emily Call                  Violin
Madeline Falcone    Violin
Betsy Rettig             Cello
Nadia Sirota            Viola
Soundtrack produced by 
David T. Little, Andrew McKenna Lee, & Beth Morrison
Edited and mixed by 
Andrew McKenna Lee at Still Sound Music, East Chatham NY
Mastered by
Reuben Cohen at Lurssen Mastering, Burbank, CA
Recorded by 
Jim Lang at Knobworld, Los Angeles, CA
Tommy Simpson at Macroscopik Studios, Los Angeles, CA
Additional recording by:

Matthew Setzer
David Tranchina
Daniel Corral
Andrew McKenna Lee
Michael Joseph McQuilken
David T. Little
Spoken word for The Strange Light in the Lodge by Adina Verson
Additional guitar and percussion by Andrew McKenna Lee
Programming and additional vocals by David T. Little
World premiere film/production directed and with a screenplay by Michael Joseph McQuilken
Executive Producers: Beth Morrison and Thurston Moore
World Premiere produced by Beth Morrison Projects and presented by Opera Philadelphia
Opera commissioned by Beth Morrison Projects and the Allen R. and Judy Brick Freedman Venture Fund for Opera.
Film commissioned by Beth Morrison Projects, Opera Philadelphia, the Allen R. and Judy Brick Freedman Venture Fund for Opera, David & Kiki Gindler, Charlotte Isaacs, and Thomas H. Platz with additional support provided by the Howard Gilman Foundation.
Developed by Beth Morrison Projects, California Institute for the Arts, HERE Arts Center, and REDCAT. Additional production support provided by David & Kiki Gindler, Charlotte Isaacs, and Thomas H. Platz. This program is supported, in part, by public funds from the New York City Department of Cultural Affairs in partnership with the City Council.